Running 3 businesses, running a home, keeping fit, staying in touch with family and friends, walking the dog – the list goes on and on!  A question we get asked frequently is how we stay SO organised and manage to achieve so much in a single day.  These are the top 5 tips on how we stay organised.
Meal Planning
Sit down on a Sunday and go through what your diary looks like for the week ahead.  Quite often we'll have conflicting diaries meaning we might have to eat our cooked meal at lunchtime or have something that we can warm up in the evening.
By doing some simple meal planning you'll always have something in the fridge / freezer to prepare and avoid those frequent takeaways!  You'll also save money each week as if you're dipping into the supermarket on a daily basis, you'll be adding extra bits and bobs to the basket.  How often have you popped into milk…and come out with £35 worth of food!
If you're making a lasagne, curry, chilli, spaghetti Bolognese for example, be sure to cook double and put the additional portions in the freezer so that you can pull them out for an easy win meal.
We've also had meal boxes from the likes of Pasta Evangelist and Hello Fresh in the past which have really helped us.
An electronic diary…for work
All of our work appointments are run through Microsoft Outlook.  We share our calendars with each other so we can see where we are and when so it avoids any clashes.
By using your digital calendar, you'll be able to colour code accordingly – our diary has a colour for each client, plus a colour for accounts and working on our own business.
John keeps all of his personal appointments in his diary as well however I didn't have much success with it which leads me to the next point.
A paper diary…for personal life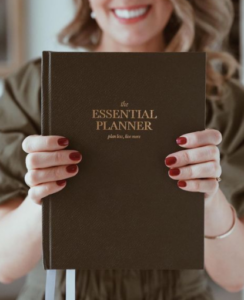 I tried to incorporate both business life and personal life on one diary and frankly I got so overwhelmed by the amount of appointments in one place I couldn't see what was going on when by information overload!  I love the Emily Rollings Essential planner which is really neatly laid out.  it gives you a monthly calendar and then you break down your to do list for each week.  There is also space for notes, journaling, goals.  By separating out the to do list, it just gives you a little more breathing space and less overwhelm.
Time Blocking
I'm a huge advocate of time blocking my calendar.  Essentially I batch together tasks that are similar.  For example, if I need to work on the business accounts for all 3 businesses, I'll do that for an afternoon.
Time blocking can go hand in hand with batch working.  Put them together and you'll become a power house at getting through your to do list and mastering your time.
You can read more about it in this blog post.
Outsourcing
The final thing that's really helped us is outsourcing some lifestyle tasks.  We now have a cleaner that comes in for 3 hours once a fortnight to do a decent clean meaning that in between we can do a quick effort.
We've also looked at getting a dog walker a couple of times a week however we realised that having to stop to walk the dog was actually a good thing!  We get away from our screens for an hour in the middle of each day and come back to work with a refreshed energy and new focus.
As a disclaimer, we don't have children that need looking after which I know can add a different spin on things!